A little more about our host, Alan Masters:
Alan started riding motorcycles on his 5th Birthday when his older brother Rod took him on the back of his 1932 ES2 Norton single as a pillion passenger to Portsmouth. "I was hooked from that day forward" says Alan "From then on I cried to get on the back of any of my family's motorcycles! Yep, I was from a family of eleven (six boys and three girls), most of whom rode motorcycles, including my mother and sisters. My father road speedway as a boy and my mother road a 650 Triumph scaring everybody who was foolish enough to ride with her" Soon, Alan started riding his Dad's 75cc Capriola at age twelve and his 125 BSA Bantam, progressing to a 150 Bantam on his sixteenth birthday.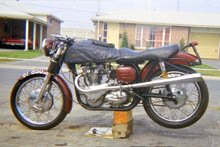 This was followed by a 1959, 325cc Panther, Villiers two stroke twin, then a 1959 Triumph Twin which was purchased already souped up in clubman (Café) trim. "I had some side hack experience" said Alan, "in grass track with my local club as a "monkey" then later off to Canada." After a short stint racing sports cars in 1970, Alan started racing in Canadian Motocross events where he followed the circuit for more than 30 years. In 1993 he won the Senior Ontario 500cc Motocross Championship on a Honda CR500R.
Alan was then hooked on vintage motorcycle road racing after he attended an event put on by The Vintage Road Racing Association (VRRA) at their annual Mosport Vintage Festival event in 1990. "I showed up the following year with a very competitive YamahaXS1 750 which I competed with in the Super vintage heavy weight class (Period II) where I continue to race today". Alan also races a Honda RC51 at Daytona in the Battle of the Twins Formula 1 Supervintage which he said "is one of the greatest rushes I've ever had in motorcycling!" Alan founded a Motorcycle club in his Village of Beeton Ontario which now boasts 68 members. I guess he misses his mates from the A24 Club and 59 Club in London of which he was a member in the 60's Alan currently is a motorcycle instructor at Humber College in Toronto, Ontario, Canada.